Essential Equipment for your Golf Bag!
If you are reading this, you've caught the golfing bug, and I'm sure you are familiar with the different types of golf clubs used in playing the game. However, let's just take some time to review this area to make sure you have the best essential equipment in your golf bag.  
An average golfer's bag contains a variety of different clubs, each designed with a specific purpose in mind for playing. Let's start with the basics. 
---
Beginners Guide – What equipment is in a golf bag?
The names of the typical golf clubs used in the game of golf are woods, wedges, irons and a putter.
What are Irons in Golf?
Iron clubs generally come in numbers three to nine iron, not including wedges which are explained further below, they are used to cover medium distances between 215 and 130 yards. Modern golf sets however make use of Fairway woods and hybrid clubs, in place of the lower numbered irons as these are generally more forgiving, versatile and easier to hit.
In the past golfers would have used irons numbered 1-3 for the longer approach shots onto the green as opposed to the fairway woods. These longer irons are notoriously difficult to hit with. Golfer Lee Trevino, when asked about the difficulty of the 1 iron, was famously quoted as saying:
"If your caught in a storm and are afraid of lightning, hold up a 1 iron. Even God can't hit a 1 iron"
The numbers on the bottom of clubs provide an easy way for golfers to identify which clubs they should select for their shot. They distinguish the degree of loft the clubs have. The higher numbers have a higher degree of loft and the lower numbers have a lower degree of loft and carry the ball longer distances. For example, the 5 iron which has a loft of 27 degrees will have an average yardage of 160 yards. It is designed to hit the ball a longer distance and take the ball flight over a lower height trajectory. In contrast the 9 iron has a club loft of 42 degrees and will have an average yardage of 120 yards, but the ball will have a much higher flight path due to the amount of loft on the club face and it will take a shorter amount of distance for the ball to reach its maximum height trajectory.
I've included a helpful golf club distance chart. This will help guide you to the differences between the loft and the distances of the clubs in your golf bag.
---
What is a Golf Driver?
The Driver is one of the most difficult clubs to hit, mainly due to the length of the club and the distance you are standing away from the ball. Therefore, we see that this alone can provide a larger margin for error with this club. When choosing a driver to buy, you need to make sure you've had the chance to practice with it first in the first place. Many golf shops and outlets will allow this, either in the indoor swing analysis studio or on the nearby practice range.
Golfers love to hit long distances; the driver is the perfect club that delivers these greater distances. With advances in technology, the golf drivers nowadays can hit incredibly long distances. The club heads are made from metal alloys or advanced materials. These clubs remain to be referred to as 'woods' though, even though the material has evolved away from wooden material.
During the last few years, several manufacturers of golf equipment have adopted the technology of adjustable drivers that allow players to set up various attributes of the club to make it more customized. The adjustable drivers enable a golfer to vary the loft angles across wide ranges, adjust angle of the club face, lie angle, and the gravitational centre of your club head.
There are some important things for a beginner golfer to consider when choosing a golf driver. I've listed below some of the tips you should be aware of when making your choice.
The head size of drivers does matter. If you have just begun to play golf beginners should use drivers with a large 460cc club head, it's the maximum permissible size in the USGA rules of golf. Drivers with bigger club heads can help you improve your golf to a great extent due to the 'sweet spot' being larger and providing a better chance of the ball going in the right direction, even with shots slightly off centre.
When choosing the perfect driver for your golf bag, you must also pair the driver with the correct club shaft.
This relates to how flexible the shaft of the club will be when you complete the swing. If you have a slower swing speed. Maybe for beginners, juniors, or women golfers, you might be better off with a regular flex club shaft. There is also the option of a stiff or extra stiff shaft flex which makes the shaft less flexible when being swung, this is designed for golfers with a faster swing speed.
Have a look at the chart below to provide some insight into how swing speed affects the type of club flex you'll require.
| | | |
| --- | --- | --- |
| Shot Distance | Clubhead Speed | Shaft Flex |
| 180 to 200 yards | 75 to 85 mph | Senior |
| 200 to 240 yards | 85 to 95 mph | Regular |
| 240 to 275 yards | 95 to 110 mph | Stiff/Firm |
---
Do I need a Fairway Wood in my golf bag?
Fairway Woods, these clubs have a head that is slightly smaller than the driver and have a higher degree of loft. They are designed for hitting the golf ball longer distances off the ground to cover distances of between 180 – 220 yards depending on the club type, and your skill level.
Fairway woods can have a big impact on your game by allowing you to easily hit the ball to the green or surrounding area from a longer distance from the fairway or the rough. The design of these clubs mean that they are generally easier to hit than the longer irons, and for this reason have become a regular part of golfers' bags.
---
What is a hybrid golf club?
Hybrids, not to be confused with fairway woods, are also excellent for beginners. With longer irons so hard to hit for beginner golfer's hybrid golf clubs have become increasingly popular. The small club face and low club trajectory for these types of clubs make them better to hit from both the fairway and the rough. As these are generally easier to hit and more forgiving for the beginner golfer. Some golf equipment companies have produced hybrid versions of their entire set from long irons all the way to wedges.
---
What wedges do I need to carry?
Wedges are vitally important in golf. The key to choosing the best golf wedge for beginners is to ensure that there is no large gap between the loft of each club, usually try to have a 4-5 degree gap between each wedge. Therefore the best three wedges for a beginner or high handicapper to carry would be a Pitching Wedge, a Gap Wedge and a Sand Wedge.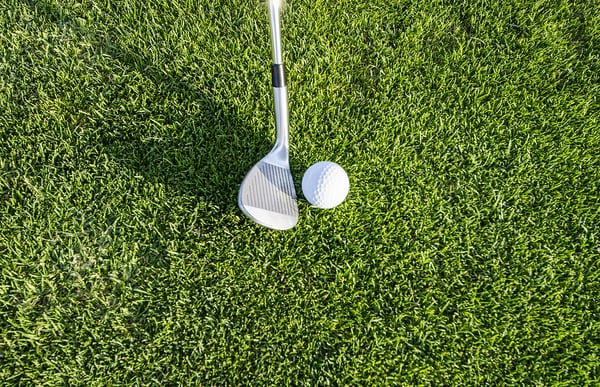 ---
Do I need a golf putter?
The importance of the putter is that about 45% of your score is generated on the green, so you definatley do need to have a putter in your golf bag. You use your putter more than anything else in your golf bag. If you want to improve your game and hole more putts you will need to make an investment in a well balanced putter with which you feel comfortable.
---
I hope you've enjoyed this overview of what's in a golf bag. If you're looking for the best golf equipment advice and reviews, be sure to check out www.fungolf.co.uk